Lawn care in Warner Robins, GA
Lawn care in Warner Robins is a unique environment to take care of lawns.  In Warner Robins, GA the soil is generally more sandy than Macon since it is just south of the Piedmont region.  The weather in Warner Robins, GA can also be challenging.  With heat soaring above 100 degrees or plunging below 20 degrees, your lawn needs to be protected and nourished to survive these conditions.  If you need help with lawn care in Warner Robins contact us!
Lawn care in Warner Robins, GA
Lawn care in Warner Robins can be challenging because of the weather!
Managing lawns in Warner Robins can be difficult.  The weather fluctuations can be 20-30 degrees each day!  This means watering needs to be monitored closely.  When temps are in the upper 90s in the summer, your lawn needs water!  Sometimes we experience extreme drought condition in Warner Robins and your lawn will need to be watered AT LEAST 4 times a week.  When we have rainy conditions this is not necessary, but during dry times… if your lawn looks dry you need to add supplemental water!  Find out more about watering your lawn here.  We also recommend using a Rachio smart controller to help monitor your irrigation for you.  It will automatically adjust if we get rain or if we are going through a period without rain.  If you have any dry spots we recommend deep watering for those areas.  If your lawn gets really dry it can damage it permanently!
Lawn care in Warner Robins can be challenging because of the different grasses!
There are several different types of grasses used in the Warner Robins area.  The most common is probably centipede.  Zoysia is becoming much more popular now because of nagging problems with centipede turf, and Bermuda is starting to make a come back as well.
Centipede lawns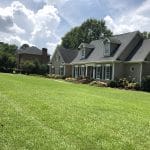 Centipede is probably the most prevalent turf in Warner Robins, but it is slowly being overtaken by Zenith Zoysia and Bermuda.  Centipede has cold hardiness problems in our area.  After discussing the matter with a professor at UGA, this professor no longer recommends using centipede turf in our area anymore.  With the last few winters dipping below 20 degrees on several nights, centipede suffered some freeze damage and many areas of lawns had to be replaced.  We have seen this in several areas of Warner Robins.  The sandy soils in Warner Robins are also the perfect environment for mole crickets to thrive.  These pests can damage centipede and must be treated with an insecticide to avoid lawn damage.  Centipede also needs full sun.  It will not tolerate less than 6 hours of direct sun.  It is also susceptible to disease and insects such as grubs.  The appearance of centipede is supposed to be more of lime green.  If centipede is fertilized to the point of being as dark bermuda or zoysia, it is probably being over fertilized and this can tribute to thatch and make it more susceptible to disease
Zoysia lawns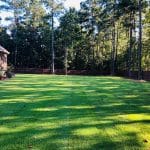 Zoysia lawns are now becoming one of the standard grasses installed by builders in the Warner Robins area.  This turf has better color than centipede and is more cold hardy.  Depending on the type of zoysia will depend on how shade tolerant it is.  Emerald zoysia is much more shade tolerant than Zenith zoysia.  Emerald only requires about 4 hours of direct sunlight while Zenith will require closer to 6 hours of sunlight.  Both are susceptible to disease and insects.  Certain insects such as armyworms prefer fine bladed turf over wider bladed turf like centipede.
Bermuda lawns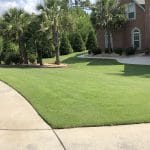 Bermuda lawns are also becoming more popular with the new Tiftuf cultivar.  This new cultivar requires 38% less water that Tiftway Bermuda, greens up earlier in the spring and has a dark green color that is similar to emerald zoysia.  Bermuda is more resistant to disease and although it is still susceptible to pest, it recovers much quicker.  Bermuda is also one of the best grasses to handle traffic.  Bermuda is the most common turf used on golf courses in Georgia and is used at all of the golf courses in Warner Robins.  The one caveat to bermuda lawns is that this grass really needs mowing weekly.  When they are mowed weekly at the proper mowing height, they will be dense and green.
Getting lawn care in Warner Robins right!
Because of the temperature variations, it is critical to select the correct grass for your lawn.  The correct turf can depend on your expectations of thin or wide bladed lawn, your budget (Emerald zoysia cost twice as much as Bermuda), how much direct sunlight your lawn gets, and if you want to save on future watering costs(Tiftuf).  There are several variables in getting your lawn care in Warner Robins right!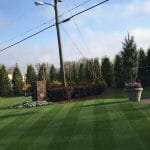 Maintenance of your lawn is also a consideration.  Bermuda requires weekly mowing whereas the other turf types might not require mowing as often.  Bermuda will typically have less problems with disease and insects, whereas other grasses may require additional fungicide and insecticide treatments.
Weed control and fertilizer applications are also crucial to any type of turf.  No matter what type of grass you have, you will need a lawn care company to prevent your lawn from having weeds and to provide the nutrients it needs to thrive with regular fertilizer treatments.  Liquid Lawn specializes in managing your fertilization and weed control needs with our standard 7 step program.  We have had such good results with our unique liquid only treatments that we GUARANTEE to kill ALL your weeds.  This is a promise we intend to keep.  Weeds are a never ending battle.  Your lawn will always need preventive treatments to keep weeds from germinating, and your lawn requires a certain amount of nitrogen and nutrients to thrive.  Getting lawn care in Warner Robins right is a tough job, but we have the knowledge and experience to ensure that your lawn is beautiful!
Choosing the best lawn care company in Warner Robins
When you are looking for the best lawn care companies in Warner Robins, be sure to check out there reviews online and make sure they have a website.  This will help you determine which companies have the experience and the expertise.  Also you want to make sure they are a licensed pesticide applicator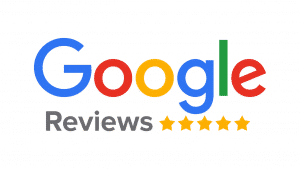 and have the knowledge to apply the correct herbicide to your lawn.  Try calling around and making sure that you can get them on the phone as well.  Professional companies will have an expert dedicated to handling problems and extra request.  If you have any questions about lawn care in Warner Robins or would like to get a quote please contact us here, call 478-318-7644 or visit our FAQ.  Our office is located on the southern border of Macon between Byron and Warner Robins at 7454 Cochran Street Macon, GA.  We service the Bonaire, Kathleen, Centerville, and Byron areas as well.