Weed Treatment Service
Why is Liquid Only an Advantage to a Weed Treatment Service?
There is a major difference in the Macon and Warner Robins area when it come to a weed treatment service.  Liquid is the only company in the area to offer Liquid Only treatments.  We are also the only company to offer a 100% guarantee on our weed service or we will give your money back!  There is a real difference in the applying liquid vs granular and the results are vastly different.
Liquid vs Granular Weed Treatment Service
Liquid Weed Treatment Service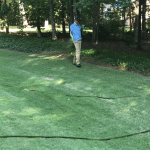 Liquid treatments are applied to a lawn via a hose and a tank.  With these treatments the herbicide and the fertilizer are mixed into the tank at precise rates and calibrated to apply exactly what your lawn needs.  The advantage to liquid treatments is that several different additives can be mixed into the tank to customize your treatment for the environmental conditions at hand.  It also gives us the capability to include weed preventer in all of your lawn applications.  This provides extended protection from weeds throughout the entire season.  We also include a slow release agent to our treatments to evenly feed your turf throughout the growing season between treatments as well iron to enhance your lawn's color without over fertilizing the turf.  Over fertilizing turf can lead to thatch build up and make it more susceptible to disease.  Check out what people are saying about our weed treatment service here.
Granular Weed Treatment Service
Granular treatments are applied to a lawn with a granular spreader.  This is the way all of the weed treatment services in Macon and Warner Robins put down their fertilizer.  This type of lawn treatment service is fine for putting down just fertilizer, but you cannot put down a weed preventer and other nutrients that will greatly benefit the lawn at the same time.  Some claim an advantage to granular fertilizer is that it is coated with sulfur or wax to slowly break down and feed the lawn longer, but now there is an agent for slow release with liquid applied fertilizer that is just as effective.  So there is no advantages to granular applications now, but just limitations in applying weed control, iron and other nutrients at the same time.  One reason most companies do not apply liquid fertilizer is because it requires a special truck and tank that will mechanically agitate and break down the fertilizer into the water.  This is a much more of an upfront investment that most companies are not willing to pay for.  Liquid Lawn can easily justify the investment because our clients have better results and end up becoming more loyal which is just a better way of doing business.