Watering instructions for Macon / Warner Robins.
Great detailed advice on watering instructions for the Macon / Warner Robins area.
Watering advice for Macon/ Warner Robins
The climate in Macon / Warner Robins can vary greatly.  In the summer we can temperatures as high as 105 and in the winter as low as 10.  Your lawns water needs will vary greatly with each season.  You can experience localized dry spot or even disease in periods heavy rainfall.  You will need to monitor your irrigation system and make changes from time to time.  We have put together another article on how to adjust and set your sprinkler system here.  Or you can watch one of our videos on how to adjust your Hunter irrigation controller or your Rain Bird irrigation controller.
Your lawn should look like the photo below during the growing season.  If you have brown areas that should be a cause of concern and we would advise you to contact us.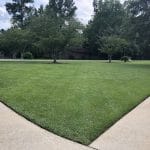 Detailed Watering Instructions
Please water within 24-48 hours after an application.

Rain is a good thing, applications need to be watered in within a few days if possible.

Watering deeply and infrequently is the most effective way to encourage deep rooted and drought tolerant turfgrass.

Water between the hours of 4am-10am.

Watering in the heat of the day is very inefficient as the sun and wind prevent the water from getting where it needs to go.

Watering in the evening hours leaves the leaf blade wet for prolonged periods promoting the growth and spread of fungal spores.
January & February
Irrigation off – water as needed in absence of rainfall
March
Water 1-2 times per week if no rainfall
April & May
Water 3 times per week
June
Water 3-4 times per week and increase watering times
July & August
Water 3-4 times per week and monitor grass
September & October
Water 3 times per week
November
Water once per week if no rainfall
December
Irrigation off – water as needed in absence of rainfall